Heat and moisture is the worst enemy of roof spaces. Solar roof fan is the answer.
Solar roof ventilation makes a significant difference to the comfort level of a building. Many often neglect this area of the house but it very important to regulate the temperature to protect the building from damage in the long run. A wide range of products is available in the market. You would get full assistance from solarmatic experienced professionals in taking the right decision.
Benefits of Roof ventilation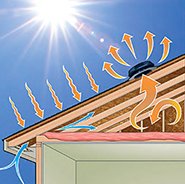 During summers, roof gets heated due to scorching heat from the sun and it puts the load on air conditioners installed inside the houses to keep the inside temperature low. The hot air from the roof does not find any vent to escape and hot air starts accumulating in the attic. Solar roof fan comes to rescue in this situation and it actively circulates the hot air and allows the entry of cooler air, thus reducing the indoor temperature substantially. In this process, the surface temperature gets low and hence it prevents the hot air from entering the house. This results in a cooler environment without putting excessive load on the air conditioner and you can save on your electricity bill also.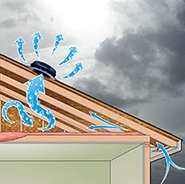 During Winters, snow gets accumulated under the eaves which prove detrimental and affects the condensation process which can render the insulation ineffective and cause the wood to rot. A proper ventilation is a way to a healthier home.
If you look at it from the broader perspective, Solar roof ventilation is adding value to your property. It plays a major role in saving the roof from heat and moisture. Excessive heat causes shingle distortion and moisture deposits onto the wooden structures and in the insulation can result in Mold formation, Rot, Compression of the insulation.
A solar fan is the most efficient way of ventilation compared to the traditional power fans.